U.S. refiners and petrochemical manufacturers were encouraged on April 10 when President Trump signed an executive order that will better clarify the roles of federal and state agencies in permitting decisions for energy infrastructure, including oil and natural gas pipelines. The move will, in the words of the president, "dramatically accelerate" the decision-making process surrounding approvals, and ultimately promote investment in critical infrastructure projects that help transport oil and natural gas feedstocks from upstream production fields to refineries and petrochemical manufacturing facilities.
Developments like this have been sorely needed for some time. With booming U.S. production of crude oil and natural gas liquids (NGLs), refiners have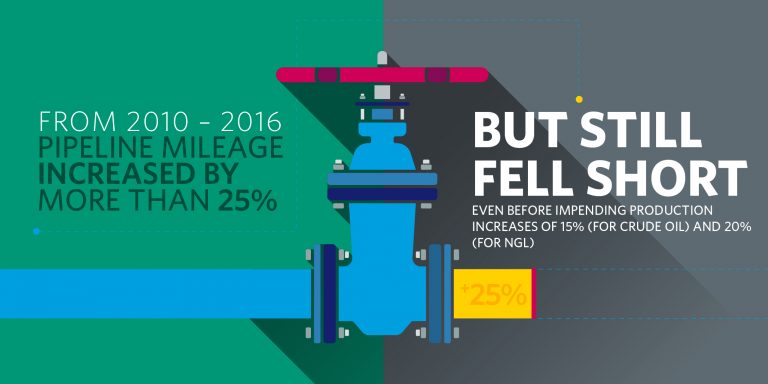 steadily increased their processing of domestic crude supply. As a result, they are increasingly reliant on pipelines for their feedstocks. U.S. petrochemical manufacturers are thriving as well, expanding existing capacity and building new plants to process increasing supplies of NGLs. Unfortunately, pipeline development has failed to keep pace.
For example: in 2016, U.S. refineries received 10.2 million barrels per day of crude oil via pipeline, and 62 percent of total crude receipts, an increase in refinery pipeline receipts of more than 30 percent since 2010 — and, U.S. refinery pipeline receipts have continued to increase in the last two years. From 2010 to 2016, crude oil and NGL pipeline mileage increased by more than 25 percent, but this was outpaced by rising productions levels. 
Fast forward to 2019 and beyond: with U.S. oil and NGL production projected to grow by more than 15 percent and 20 percent, respectively, over the next decade, significant new investments are needed to ensure that these resources can be tapped by U.S. refiners and petrochemical manufacturers to fuel our growing economy.
As the United States' energy renaissance continues and oil and natural gas production breaks new records, the need for government policies, like the clear and timely decision-making processes enabled by the president's recent executive orders, that support the expansion of midstream infrastructure development is growing. This infrastructure is vital to ensuring Americans continue to reap the benefits of the shale revolution, which include access to reliable and affordable fuel, as well as petrochemical feedstocks.
Refiners and petrochemical makers are poised to invest billions into new pipelines, ports and storage facilities, and support the ongoing construction and maintenance of railroads, highways and waterways to ensure a healthy supply chain and alleviate bottlenecks. But our industries will continue to need the support of policymakers through consistent, commonsense government regulation.
The need for infrastructure investment is a concern shared across the political spectrum and by experts inside and outside the industry. Here's what they're saying:
Media
Industry Experts
Government Officials/Policymakers